Secured Product download page
In a couple of weeks (by end of July-2014) we will permanently change the way how you can access your product download page. If you want to get future updates for your purchased products, then you need to create an account on our Blog. If you already have an account, you can use that account of course. Otherwise you should register now.
Already Customer ?
Go to your product Download Folder as usual: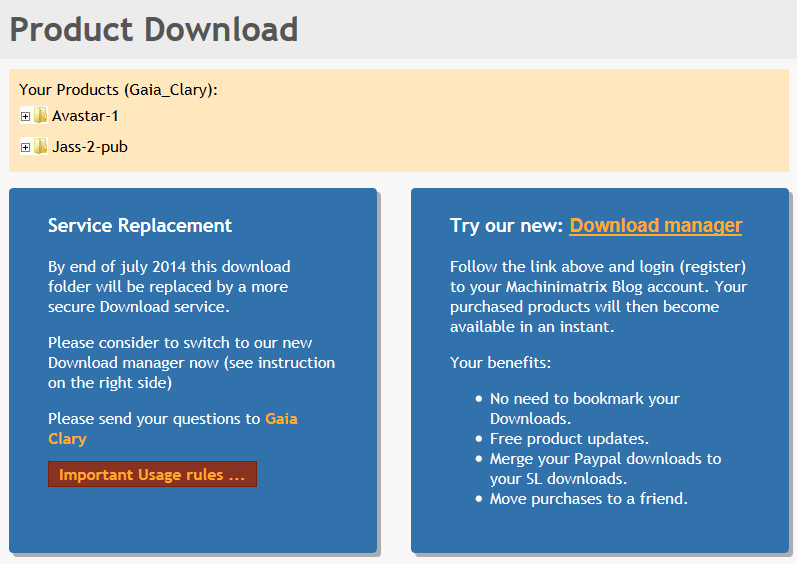 Follow the Link "Try our new Download manager"
You will be asked to register/login on our Blog. As soon as you have logged in on the Blog, you get automatically directed to the Download manager. From there you can access all your products as before.
New Customers:
First time purchasers will still be able to download a purchased product without need to create a Blog account. But the download count will be limited to 3 times within the first 7 days after purchase.
Your benefits:
Direct access to your purchased products whenever you are logged in.
Free product updates as soon as they get available.
Merge your Paypal purchases to your SL download folder.
Move purchases to a friend.
Your account is kept confidential
We will not use your email addresses for any kind of advertising. We will not sell your data to anybody, or use your account in any way other than managing your purchases.
Second Life Users: You will have the option to assign your Avatar name to your Machinimatrix Blog Account. However we will never(!) ask for your SL password.
WARNING: DO NOT USE your SL Password as password to your Blog account!
When you do not see your products
Sometimes something goes wrong during Register/Login. In that case it might be possible that you do not immediately see your product page on the Blog. if that happens to you when you are logged in on the Blog, then proceed as follows:
Open your old product download page again.
Follow the Link "Try our new Download manager" once more.
Now your product page should magically open.