Avastar 1.5 is out. This is mostly a usability release. We have made various little changes which all aim for more intuitive usage of the tools.

If you also have Sparkles Pro, then please always ensure that your Sparkles release matches to your Avastar release. Then you have a good chance that the tools work together.
Some Highlights of the Avastar-1.5 Release:
Visible improvements:
Updated Release Info panel for Avastar
When you open the Avastar Vertical Tab in the Tool Shelf, then you now find a panel named Avastar *.*.*
Inside the panel you now find a Update Section. From there you can check for updates and you can immediately download and install them (provided you have an account on our Website and you have registered your purchases on that account).
Note: This panel has previously been named Avastar Tools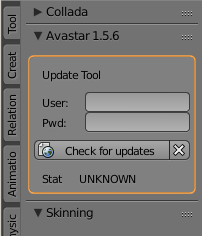 Other improvements:
Improved Shapekey copy tool now also works reliably after editing
In previous releases Sparkle's Shape Key copy tool added some extra data for Avastar, so that Avastar could automatically assign the copied Shape Keys to the correct Avastar Sliders. This extra data suppressed any changes that you made on your custom object shape keys after they where copied from a template (e.g. the Avastar meshes). This restriction no longer applies. You now can edit any shape key to your likes.
Note: Avastar recognizes which shape key shall be used with which Shape Slider by matching names. So all you need to ensure is: When you name your Custom Shape keys exact identical to the corresponding Shapekeys on the Avastar meshes, then Avastar will apply these keys automatically to your custom meshes!
Updated Avastar template files
The textured template and the animation template use the newest Avastar Armature.
Object Origins no longer move with Sliders
Since the beginning of Avastar the Object origin was influenced by some of the Shape sliders (i.e. the sliders which change the Avastar height). We have fixed that.
Upgrade Tool more robust.
While the tool still can not handle all ever possible situations, it now can handle at least some more situations than before.
Please help us to help you!
We are so dependent on your feedback. So please please please be so kind and report any inconveniences and bugs to our
ticket system
. This will help us to identify issues and fix them.