Attach my Downloads
from Second Life
You purchased just some moments ago. In that case you find the activation link in your SL Viewer. Look at your Nearby Chat.
You have forgotten to remember your account or you mixed up avatars and payment methods:
The avatar registered with your account on Avalab not the same as the avatar with which you want to purchase in SL
Your initial purchase was with Paypal and you did not register your avatar with your Avalab account.
You purchased long time ago, you have no chat.
Then you need to make sure that all Avatars you used for purchase are registered to the same account. Try this:
Attach my Avatar
Go to the JASS-Shop in SL
Locate the purple Octopus that sits in the little Witch hut. The Witch hut on the right side of the Shop.
Click on the Octopus.
Receive your assignment link in the URL Popup window.
Or look in your Nearby Chat for the link.
Call the link in your Browser.
from Paypal
You get the activation link via Email within 60 minutes after purchasing. Please look in your Spam folder if you miss that EMail.
Add Purchases
Get list of purchases
Enter your Paypal Email here:
We send you an Email containing a list of your purchases.
Assign purchases
After you received the Email, proceed as follows:
Make sure you are logged in to your Machinimatrix account
Open the Email that you received
Click on any one of the links in the list
Now all your purchases are assigned to your account.
Note: If you already created an account and logged in on the Machinimatrix Website, then your product activation link beams you directly to the download section and you are done.
from old Download
Go to your old download page (the link that you got when you purchased)
From there follow the link to the Download Organizer as shown in the image below: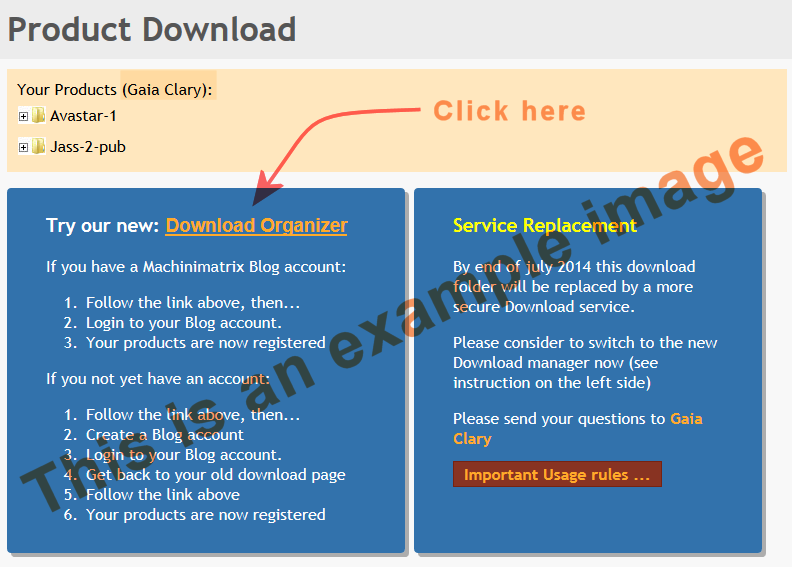 All Products …

Avastar Quick Buy
Configure your Download Area
Please configure your product download area above. As soon as your product download area is configured, this form will disappear and be replaced by the list of your purchased products.
Note: You can later access the Product Setup page from the Secondary Menu on top of this page.
Your benefits
Direct access to your purchased products whenever you are logged in here
Free product updates as soon as they get available
Merge your Paypal purchases to your SL download folder
Move purchases to a friend