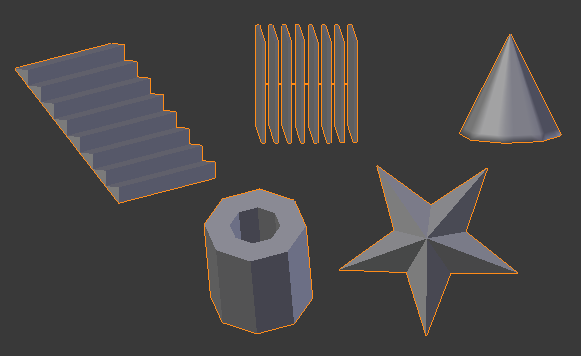 We have just released Primstar-2-dev-111.
We have mainly completed the creation part of Primstar-2 by now.
Also there have been quite a few tests and reviews within the last 14 days.
So the new release should be stable (while still not yet feature complete)
Here is the list of the new basic shapes:
Bricks (for fractional sculpting)
Cones
Rings
Stars (for christmas)
Steps
All shapes can be interactively modified with various parameters to give you
a huge range of starting points for your sculpting.
If you have purchased Primstar-2 then the new release is located in your Jass-inventory.
If you want to purchase, then follow the description of the Primstar-2 Early Adopters
Program on the Primstar-2 home page. Look for Primstar-2-dev-111.zip
Change details:
NEW: Bricks, Cones, Rings, Stars, Steps
FIX: Wrong Normal calculations on UV shape creation
IMPROVED: Torus X/Z now merged to one creation panel
IMPROVED: Subsurf "Show on cage" enabled (the ghost object disappeared)
IMPROVED: Mirroring
IMPROVED: duplicate image pathes are now handled correctly
(save as images where wrongly cached)
IMPROVED: Precision (change from float to double)
IMPROVED: Version number now correctly displayed as "Primstar-2.dev.111"
in the Addon Modules list (was fixed to 1.2 before)
IMPROVED: Documentation of the Basci shapes.
Enjoy!
Gaia + Domino