This article describes the Avastar User Interface in more detail. Due to the nature of the product the interface is rather large. Therefore we have split the interface into several functional groups. These groups are found at various places in the Blender  framework:
Export Panel

is in Render properties

Shape controls Panel

is in Object Properties

Rig Display Panel

is in Object Data Properties

Expression Controllers

are in Properties Sidebar

Mesh Tools

are in Tool Shelf
The Avatar (3D View)
Adding an avatar to the current scene is easy. Just select "Avastar" from the Add menu. The avatar will be placed at the current cursor location on the current layer.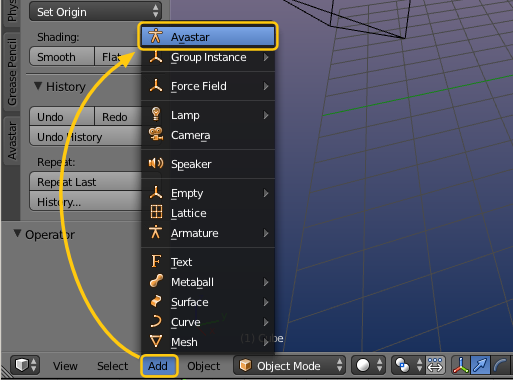 The Avatar Meshes
The avatar object is made up of eight meshes. The meshes are the standard SL meshes:
headMesh
upperBodymesh
lowerBodyMesh
eyeBallRightMesh, eyebalLeftMesh
skirtMesh
hairMesh
eyelashMesh
We have added materials to the main meshes:
avastar:mat:head
avastar:mat:upperBody
avastar:mat:lowerBody
avastar:mat:eyeBalls
Hint: All Avastar meshes provide SL compatible UV maps for textures. Therefore you can use Avastar also for creating texture based clothes. A detailed description is provided in the supplemental document "The OpenSim Avatar Mesh".
Hint: The materials will only be created by Avastar when they do not yet exist in the current blend file.
One easy way to predefine your Avastar skin is by simply providing predefined materials in your blend file and use the listed material names. When you then add an Avastar character, it will be already textured.
[[14978]] [[11671]] [[11664]] [[11658]] [[11655]] [[11650]] [[11647]]